Positive Singles – You Are Not Alone
Last Updated on February 2, 2023 by Jeffery Maxwell
Sometimes there are problems in life. It can be minor annoyances, such as difficulties at work or a serious conversation with the landlord. Small things that you can easily overcome. But there are other, more difficult moments. We are talking about health problems – HIV and STDs. In this case, your life can change dramatically. You are faced with such a situation, and because of this, you have to change your attitude toward reality. Your girlfriend has left you, and you feel lonely. The presence of such a disease will not leave you without a relationship with charming ladies.
There are many women in the world who are ready to help and support you in a difficult situation. You can meet love on online dating sites. Today, many companies offer their services to different categories of people. No matter your features or preferences, positive emotions and the joy of communicating with like-minded people are still ahead. But it is important to choose a quality dating site that will offer you the best conditions and can guarantee a high level of security. Our Positive Singles review tells you about a company worthy of your attention.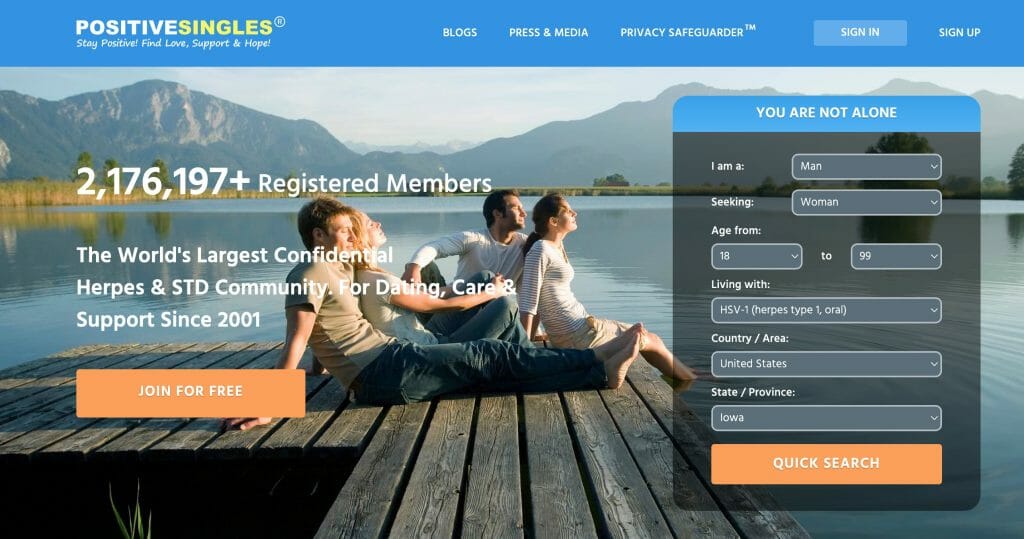 | We like | We don`t like |
| --- | --- |
| The company is legit and really helps single people find love | The site takes a long time to load compared to competitors |
| The registration procedure is simple and convenient even for an inexperienced user | We met user complaints on the speed of support response |
| This is a good service for finding a partner for serious relationships and pleasant communication | This is not a standard sugar dating site where you can easily find sugar daddy or sugar baby |
| There are a large number of adorable singles registered here looking for love | Most of the features, including messaging, are paid, so you must use a credit card |
| The presence of various STDs or HIV among users will not deter other members | The gender ratio is 40/60, so you may face competition for your partner's attention |
Positive Singles Sugar Daddy Site Overview
The modern world is tolerant, which allows people with different hobbies and characteristics to feel comfortable. You can find various services for people with special passions or hobbies on the Internet. Positive Singles is committed to helping people with STDs or HIV. The platform was created for such users so they do not feel lonely and can find like-minded people, enjoy communication and even find a partner for a serious relationship.
The dating site started working in the 00s and is still a very popular platform for such users. The presence of all necessary documents and permits attracts participants. Users can be sure that this is not a scam and that they are working with a reliable and legit company. The service has helped thousands of people find partners and enter into serious relationships during its operation. On the net, we found many positive Positive Singles reviews from real users confirming this information. Thanks to the platform, you can find your soul mate and feel happy.

Pros
The Positive Singles website is one of the segment's leaders, which positively affects the company's reputation. Such success was made possible thanks to a responsible attitude to customers' needs and a wide list of advantages. In our review, we tell you about the site's features.
The site works only with people with STDs, so they will feel comfortable and avoid censure;
The registration procedure will be easy and comfortable due to the quality and user-friendly design of the site;
All unverified profiles are automatically deleted 48 hours after registration;
On the site, you can find useful articles, as well as get qualified help from a psychologist;
Many members are friendly and pleasant, so you can quickly find like-minded people;
The company offers a convenient mobile application that works well with iOS and Android devices;
The company managed to earn an excellent reputation and gain rich experience;
The service pays great attention to security, and modern protocols securely protect all personal data;
The site has some unique features;
Support service is polite and professional;
A high-quality matchmaking system that takes into account many criteria.
Cons
Of course, every company has flaws because there are no ideal platforms. You must analyze these features and make your own decision. Sometimes it's the little things like that that make the difference. In this review section, we will talk about the cons of the Positive Singles platform.
Sometimes, the page loading speed is slow. This may be due to a large number of active users on the site;
Your profile will be deactivated after an extended absence, and you will need to log in again;
We've seen complaints about text size and font, which can be difficult to read;
Most options become available only after replenishment of the deposit.

How Does Positive Singles Work?
Positive Singles started its work more than ten years ago and has already managed to organize an effective approach to clients. Your journey begins with the registration process, where you provide personal information, including information about your medical conditions. The platform believes you need to be honest and open and avoid being judged or judged by other users. Moreover, the information provided during registration will allow the matchmaking algorithm to operate more efficiently and efficiently.
You can complete the Positive Singles login procedure and start your journey to pleasure. The site will take into account your preferences and suggest potential partners. Also, you will receive notifications about new or popular members. The next step is to study the profile of the partner you like. You can find out more information about them and start chatting online. Moreover, the company offers an interesting element – the "Let's meet" function, which works according to the principle of roulette. Of course, most tools are paid options, but you spend money on communicating with like-minded people and people who understand you.
Registration Process
It is important that the user feel comfortable at any moment of cooperation with the platform. The first impression means a lot, so the developers have created a good website design. You see a stylish blue and white page, and photos of happy people hint that you can find your happiness here. Of course, you must first go through Positive Singles sign up and become a company client. In our review, we talk about the steps of this process.
You can find the signup button on the company's official website (look at the top right corner).
Click the button and enter your personal information. The company needs to know your email address, age, city of residence, gender, health characteristics, and other nuances.
Now, you need to agree to the company's rules. We strongly recommend that you read all documents posted on the site. After all, in this way, you will receive maximum useful information about the rules of user behavior and will be able to act as efficiently as possible, eliminating the risk of blocking your account.
The final step – you must check the email and open a new letter from the mailing service.
Follow the welcome link to complete the registration procedure and become a new service customer.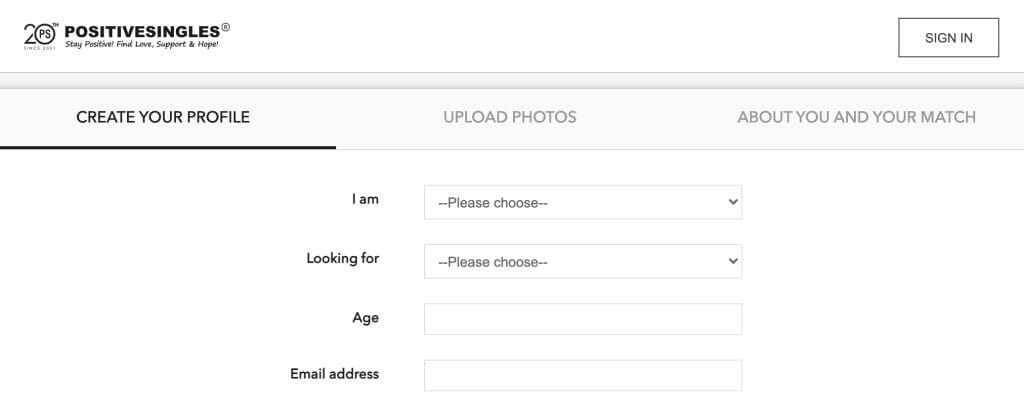 Profile Quality
Working with profiles is one of the important tools to get you started on the path to connecting with like-minded people. Statistics show that a well-filled profile attracts much more attention and inspires more trust among other users. This increases your chances of a match with your soul mate. Therefore, we recommend adding personal photos (the site allows you to add up to 5 photos) and telling other participants about your preferences and character. Be honest – this will help you gain the trust of other members. Also, photos can be in a public or private album (26 pictures). Remember that it is forbidden to post obscene, offensive pictures or photos protected by copyright.
Also, you can view the profiles of other users for free. Explore the information about the participants you are interested in. We checked the dating site, and there are a large number of well-detailed accounts. Community members honestly tell other users about themselves, which is a good sign. Here you will also see information about when the participant last visited the site. You can send him a wink and start chatting. However, information about statistics and messaging are paid features and are opened only after the replenishment of the deposit.
Mobile App
Convenience and quality service are important priorities for the company. Therefore, Positive Singles took care of developing a high-quality mobile application. This is convenient because today almost all people have a smartphone or tablet. The program is available in Google Play or App Store because the application is developed for Android and iOS devices. Downloading and installation will take only a few minutes, and the functionality is similar to the official site.
Moreover, the application has several unique features. Representatives of the company understand that the presence of STDs and HIV is a delicate issue, so they took care of confidentiality. The program has an inconspicuous logo that will not stand out in the menu, and you can also set a password to enter your account.
Moreover, you can use a mobile browser because the site has an adaptive design and is displayed correctly on the screens of mobile phones or tablets. We have tested this method and can claim its convenience.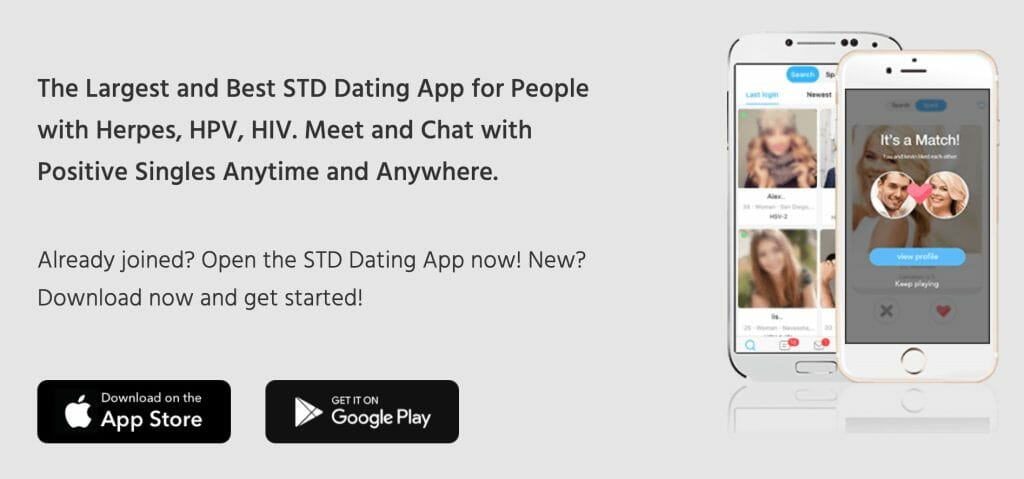 Search Process
A company's new client also gets access to an extremely important tool. We are talking about Positive Singles free search. This tool allows you to find like-minded people who best suit your requirements. The program considers dozens of parameters, and we recommend setting them to the maximum because you will increase the chances of an optimal match. The search program allows you to set the parameters of age and appearance and search by city or character. Specify the important parameters to you, and the algorithm will quickly analyze the database, finding the best options. Now all that remains is to view the profile information and start chatting with the member you like.
Messaging Features
Starting a conversation is an important step because you can get to know the user you like better. The first useful action would be to send a wink. This option is free; you can show the other member that you are ready to start chatting. What's more, you can also request access to a private album containing even more photos. An important advantage of the service is that you can reply to messages for free. Therefore, if some user shows interest in you, this is a good opportunity to enjoy pleasant communication without replenishing the deposit. However, we recommend purchasing a premium membership, as this will give you access to many convenient paid features, including the option to send messages.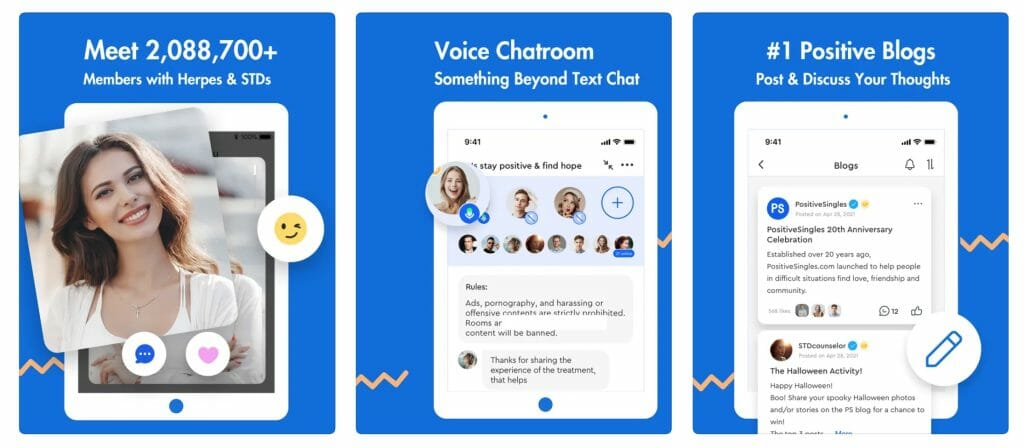 Website Audience
Thanks to our PositiveSingles.com review, you will learn a lot of useful information. For example, the site is very popular and contains many profiles. Today there are more than 2.2 million people registered with STDs or HIV who want to communicate. This huge platform offers all the necessary tools to find like-minded people. We analyzed the customer base, and most users are men aged 35-44 and women aged 25-34. The gender proportion is 40/60. Such popularity and unique characteristics of the audience allow us to conclude that Positive Singles is an excellent platform for finding a partner or like-minded person for people facing HIV or STDs.
Positive Singles Special Features
Quality companies offer customers the maximum number of opportunities, which allows them to make their experience more pleasant and comfortable. This site also has some unique features. You do not need to buy Positive Singles credits to access them; you only need to purchase a premium account. Let's take a look at these possibilities.
First Date Ideas
On the site, you can find a blog section containing useful information. Here you will find tips for proper online communication that will increase your chances of gaining trust from the interlocutor. Also, here you will read tips about the first date. Thanks to this, your experience will be positive and enjoyable.
Let's Meet
This option is similar to roulette. You will see user profiles that may suit you. You can like (swipe right) or reject (swipe left). If another user shows sympathy for you, then online communication will be unlocked. This is an interesting game with unlimited rounds, so your chances of matching are quite high.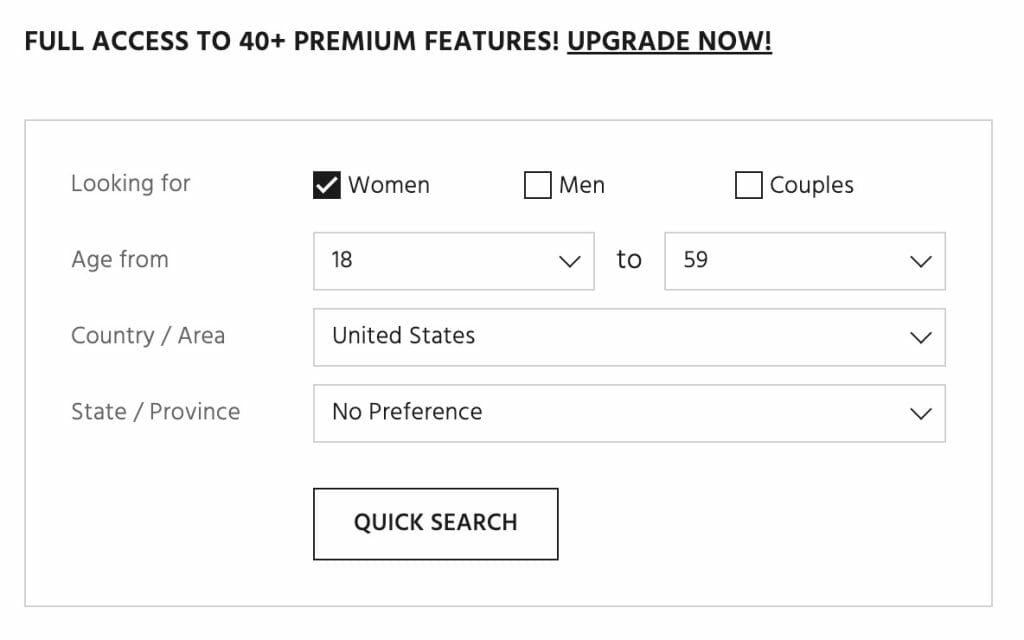 Video Call
Messaging is one of many ways to communicate with other users on the site. In 2020, Positive Singles introduced a video call feature. Now you can call a like-minded person, see him and chat on important topics. Thanks to the platform, communication with other participants become as pleasant and comfortable as possible.
Positive Singles Pricing
In this review section, you will learn how much Positive Singles cost. The company offers a good range of free options, but you must make a deposit to communicate on the site fully. You can use a credit card or e-wallet for this. All transactions are carried out instantly, and you get access to all the tools. The subscription price depends on your choice because the company offers several options.
1 month – $29.95;
3 months – $59.95;
6 months – $95.95.
Free Services
A new Positive Singles dating site client gets access to many features. The important thing is that you do not need to replenish the deposit in the first minute. You can experience the service's functionality by setting up search filters, viewing information about other users, or adding photos to your profile. Also, you can send winks for free, which allows you to express sympathy. And if another member decides to send you messages, you can also reply to them without making a deposit.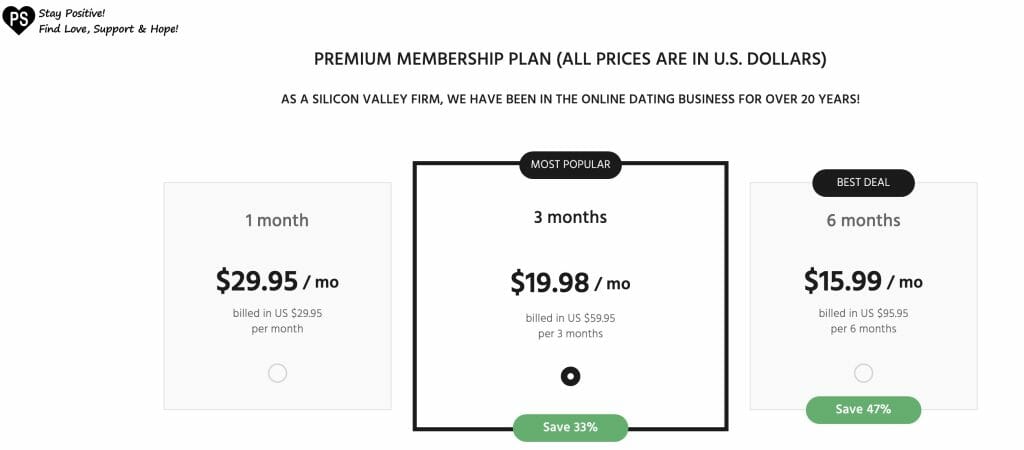 Paid Services
However, having a premium subscription will give you additional benefits. Now you have access to all the functionality available on the site. Advanced search filters make matchmaking more efficient, and unlimited messaging allows you to enjoy communication with other participants to the maximum. Moreover, premium users have improved rankings, so you get better rankings. Also, you can contact an STD consultant at any time and get qualified help.
Safety & Security
This is an important part of the Positive Singles review of the website because here, we will talk about client security. This factor is very important for the service, so the site has a professional security service. Employees of the company quickly identify suspicious activity and ban violators. Also, the company fights against fake accounts by deleting unverified profiles within 48 hours. The presence of official licenses and documents allows you to assert that you are cooperating with a real dating site that provides high-quality and safe services.
Privacy Policy
We recommend that you read all the documents on the site (Privacy Policy, Refund Policy, and Service Arrangement) to get useful information about the company's principles. The platform cares about privacy, so your data will be safe. A fraudster will not be able to access personal data or hack into your account because the SSL protocol has a complex dynamic code that resists such attempts. Also, all profiles that have yet to be verified and verified within 48 hours will be deleted from the site. This allows you to be sure of the quality of provided services.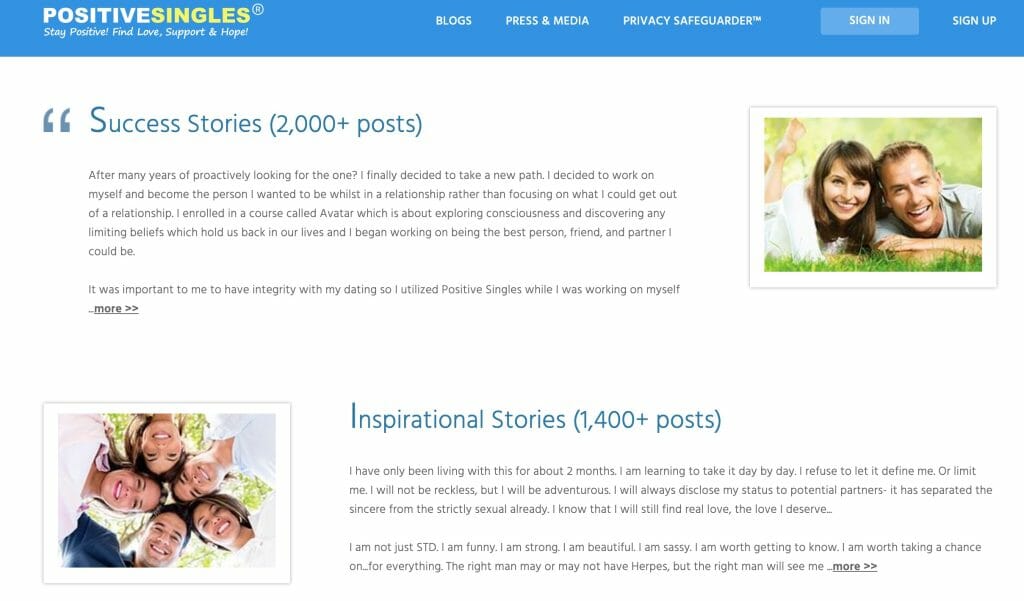 How to Protect Yourself
In our Positive Singles dating site review, we give you tips on how to avoid a scammer. After all, we want you to find like-minded people and get a positive experience. First of all, we recommend you do not communicate with suspicious members. Study the profile of the interlocutor and also follow his behavior in communication. Never give payment information to another person, even if he asks to do so. This behavior is suspicious, and we advise you to report the incident to security. Company officials will investigate and take action. Together you can make the path to pleasure as safe and comfortable as possible.
Customer Support
Convenience is an important priority for the company, so that you can find a lot of useful information on the site. The blog section contains tips on first-date ideas and pleasant and high-quality online communication. Moreover, you can contact an STD specialist anytime and get qualified help or advice.
A professional security service is ready to help at any moment. You can call them at 1-416-628-1072 and ask a question. This is a great option for a quick fix. Or send an email to [email protected], attaching all the necessary documents or screenshots. Employees of the company will study the issue and quickly provide qualified assistance.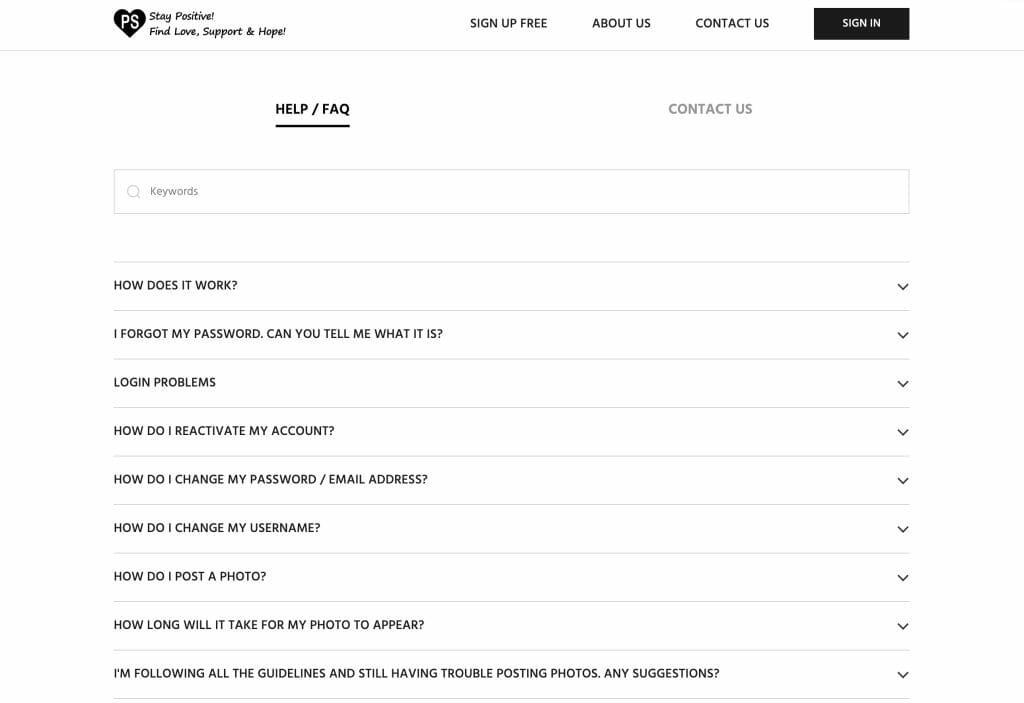 Positive Singles Alternatives and Similar Websites & Apps
Let's say you've read the Positive Singles review and decided to choose a different site. This is not a problem because we will tell you about the best alternatives in our review. You can choose the HSV Singles service, which also registers users with STDs. The platform has a large active community, so your chances of finding a partner here are very high. The MPWH website is also a great choice. This reliable and high-quality company will take care of your safety. The service offers a simple registration procedure and a wide range of opportunities to communicate with like-minded people.
Conclusion
This is the final part of the review on the Positive Singles dating site with conclusions. The service offers excellent conditions for those who have experienced STDs. The platform emphasizes that this is not a sentence for a person, and he can get qualified help or start communicating with like-minded people here. It remains to register an account, fill out a profile, and set up search filters. Positive Singles allows you to meet your soulmate quickly, comfortably, and safely. Good luck!