Last Updated on February 2, 2023 by Jeffery Maxwell
SugarDaddyMeet is a good sugar dating website, which attaches great importance to the fact that only worthy sugar daddies sign up. So the chances are higher that you will quickly find a daddy, but on the other hand, not everyone can search for them. Is it a perfect online dating site for sugar babies and sugar daddies alike?
Price
1-month advanced membership – $50

3-month premium membership – $90

6-month advanced membership – $145

Visitors
4.2 million members
Male-to-Female Ratio
70% males to 30% females
Good for
Seeking sugar relationships, finding young and attractive women
Registration
Free
Mobile friendly
Yes
Site
https://www.sugardaddymeet.com
30-Second Overview
To put it simply, SugarDaddyMeet is very good. It is a leading sugar daddy site with a well-designed system. Everyone can quickly find their way around for mutually beneficial relationship. Even those who don't frequent dating sites much can find their way around quickly. It is friendly toward all SugarDaddyMeet members.
Dating portal to meet daddies and sugar babies;
Fast and free registration;
Receive free contact suggestions;
Reading messages is a premium feature;
Only a few functions available;
Most of the profiles must be filled out during registration.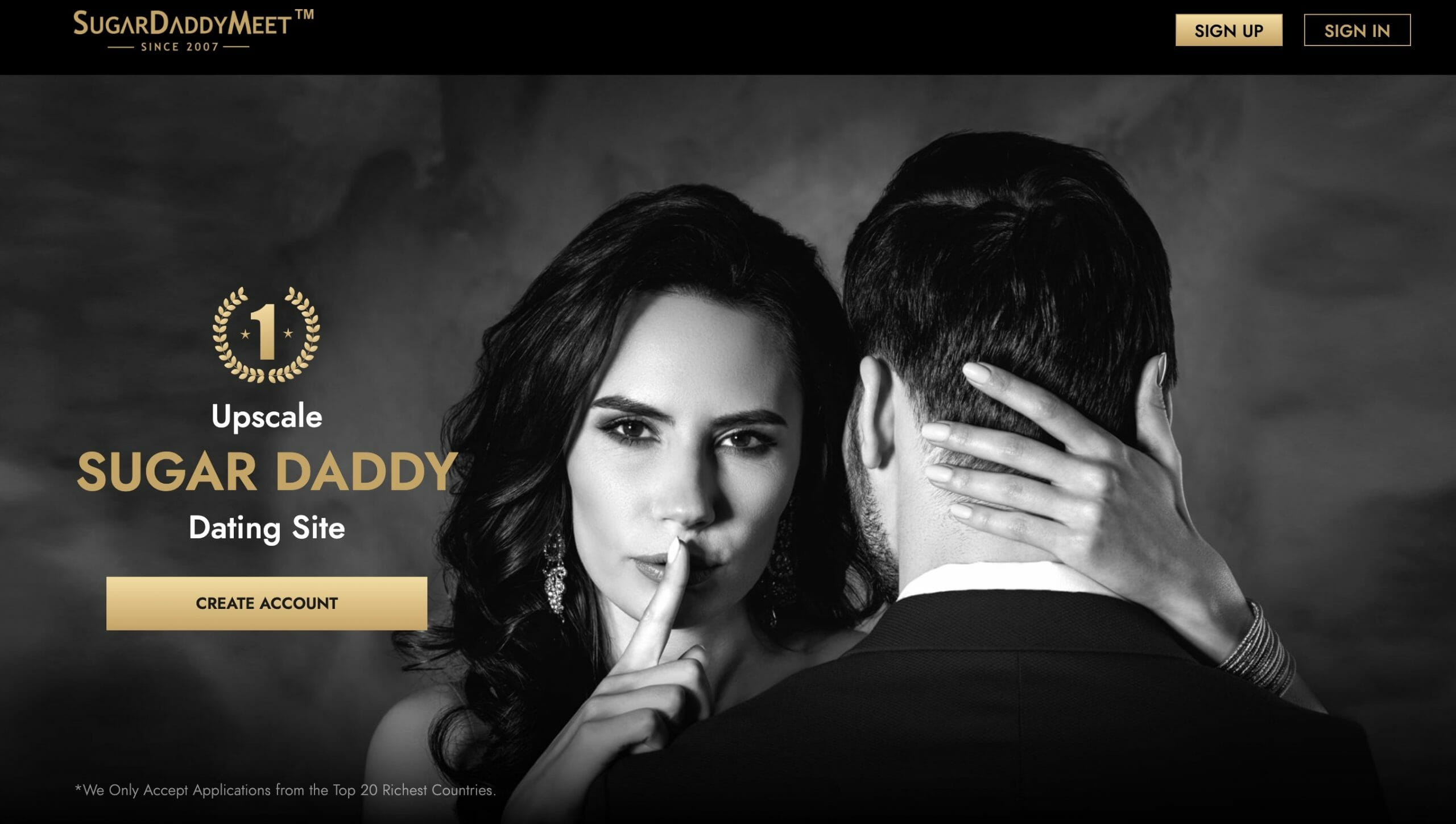 SugarDaddyMeet Review: The Site Functionality
The site is understandable and structured. Even inexperienced free members can quickly find their way around. SugarDaddyMeet keeps the whole site in a sensual red with white and black accents. The loading time is always fast in our test, and all content is displayed without any sugar dating problems. One thing that is a bit unpleasant is the banner that pops up more often, informing free SugarDaddyMeet members that you should become a premium member.
What Can It Offer to Sugar Daddies and Sugar Babies?
SugarDaddyMeet provides a safe, enclosed space for sugar daddies and sugar babies alike.
Sugar Daddy Meet Review: Signing Up
Create a SugarDaddyMeet account for free;
Registration within a few minutes;
You have to specify what you are looking for;
Pictures and other information can be added to your profile later on
Our Sugar Daddy Meet review confirms that the registration is rather simple and clean. From the get-go you have to fill in important information:
Sugar baby or daddy gender;
What are you looking for in sugar dating?
Height, weight, hair color, hair length, eye color, figure;
In which region do you want to search for sugar baby or daddy?
Birthday and relationship status;
Mental and physical health
The e-mail address you use must be valid because you have to verify it after the registration. You will be shown a link to your email provider at the end of the registration. An email with a confirmation link will then be waiting for you in your mailbox.
Continuing the Sign Up Procedure
You can't skip the first information listed above on Sugar Daddy Meet, so all profiles are at least equipped with the most important info, and you can at least get a vague first impression before contacting female users!
After confirming your mail address, you will be redirected to the page where you have to fill in the following information on your SugarDaddyMeet account:
Smoking
Alcohol
Body jewelry
Introductory text (can be skipped)
Photo (can be skipped)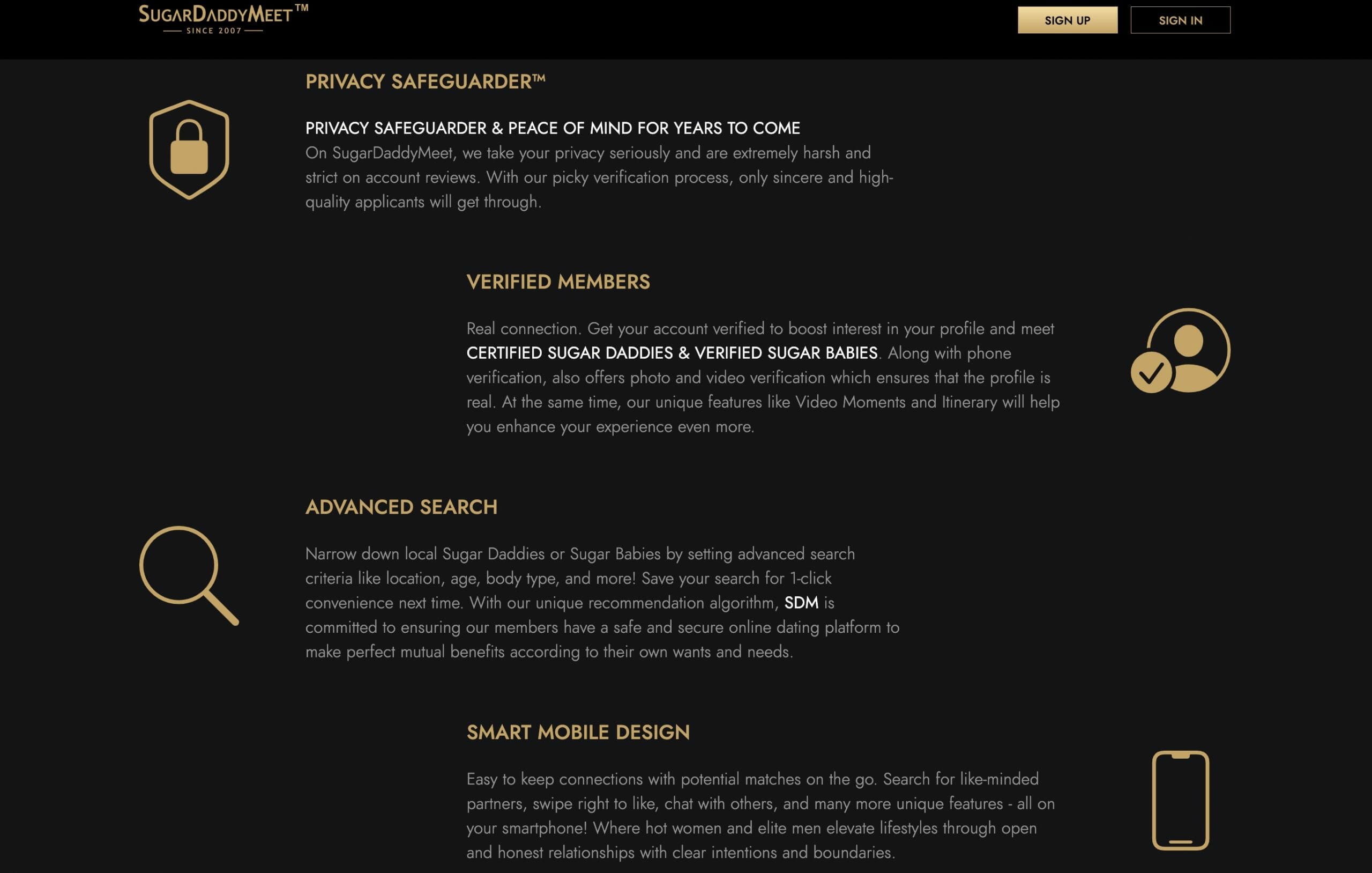 SugarDaddyMeet Review: Membership Structure
There are about 6,0000,000 million users on Sugar Daddy Meet. There are much more sugar daddies than sugar babies, with a ratio of about 70% to 30%. The thing about the overall number of other users is that it does not match the number of active users. Some have jobs, others prefer to browse the site at a particular time, so you can have about 750,000 site active audience. Most of them are using premium membership.
Age Distribution
Technically Sugar Daddy Meet doesn't have an age restriction during the sign up process. Nevertheless, the site abides by the laws of the countries it is being used in. That implies that the site is not allowed to partake in matching underaged users with adult premium members. Furthermore, if customer service notices that you are looking young in your photos, they will ask you to confirm your age. It's a necessary measure to ensure good relationships.
Fakes and Scammers on the Online Dating Site
Let's talk about what makes Sugar Daddy Meet safe. This dating internet site requires you to complete verification during the sign up. For this reason, you won't find any profiles that have been left blank. This implies that there are very few fake profiles on the SugarDaddyMeet website. Also, almost all members have uploaded photos in their profile – as a woman you can even see them for free and without a VIP membership.
Female members are guaranteed to receive the first messages right after completing their profiles. If you're a man looking for a sugar babe, you'll have to get a little creative to stand out from other matching sugar daddies. We also tried to find attractive women to check whether they are fake. There were some fake female sugar babies, but they were google stock images, so it's easy to spot them.
Making Contact on Sugar Daddy Meet
You get numerous contact suggestions after registration
Use the advanced search site free of charge
Favorites list for a sugar baby or daddy
Reading messages is a premium sugar dating feature
At first glance, Sugar Daddy Meet offers fewer features than sugar dating websites. Nevertheless, we've found the most important online dating services here. You can send messages to other users directly and in real-time. Any SugarDaddyMeet member can send it for free. If your potential sugar babe/sugar daddy replies to you, you need a premium membership to see the message. Premium membership features include adding users to favorites. This is vital for keeping an eye on your sugar relationships.
In our opinion, the best feature of the Sugar Daddy Meet site was the contact suggestions. Based on your location and the information you provided during registration, you can see most sugar daddies and sugar babies. This is something available to both male and female members.
SugarDaddyMeet Cost and Pricing
There are different types of memberships, and Sugar Daddy Meet changes the prices frequently. The prices for premium membership are not cheap, but in contrast, you have a very good choice and also high chances for a mutually beneficial relationship.
Sugar Daddy Meet Review: Free Features
Registration + profile creation
View photos and profiles (women only)
Send messages
See contact suggestions
Upload photos
SugarDaddyMeet Review: Premium Membership Cost
Usually, sugar dating sites implement a credit system that allows members to pay for site features. At Sugar Daddy Meet you do not pay with credits or coins for single actions. This is a sugar daddy platform with a fixed price for membership. The most important feature that becomes available to premium members is the reading of messages. Sending messages is free of charge but you can't see the replies without a SugarDaddyMeet subscription. Here quick rundown on how much sugar daddy meet cost:
| | |
| --- | --- |
| Period | Price |
| 1 month | $50 |
| 3 months | $90 |
| 6 months | $145 |
Quality of Sugar Daddy Meet App According to SugarDaddyMeet Reviews
Sugar Dating websites create mobile apps for the sake of attracting more sugar ladies and daddies. Unfortunately, Sugar Daddy Meet does not offer an app at this time. However, if you still want to exchange messages on the go, you can use the mobile version of the site on your smartphone without any problems. If you don't have a computer available, you can also log in via your smartphone. We hope that the developers will add the Sugar Daddy Meet app in the future.

SugarDaddyMeet Profiles: Personalization and Specialties
Most of the information must be provided directly during registration;
You can upload pictures and create private galleries;
Women can see other profiles and pictures even as non-VIPs.
Special features are what make sugar daddy dating popular. You want to join SugarDaddyMeet only if it offers something neat among its features. There is no way to create a mutually beneficial relationship without the features that allow you to meet young and beautiful women. You can use the following special features on Sugardaddiesfinden.ch:
Favorites list. Here you can save your favorite sugar babies and daddies so that you don't lose track of them;
Contact suggestions. This is something you can't find on other dating sites. On Sugar Daddy Meet you don't have a search function for sugar babies and daddies, but they will be displayed under the tab 'Contact Suggestions'. The suggestions are based on your sugar daddy dating answers.
Contact guarantee. As a premium member, you have the guarantee to have at least one real meeting during your membership. It's a sure way to find acquired online flirting addicting. You have to be a member for 9 months and send messages to half of your suggestions.
Making Better Profiles for Sugar Babies and Daddies
Unfortunately, the profiles on the Sugar Daddy Meet internet site are not very informative. You won't make it far on adult dating sites with an empty profile. Sugar relationships start with members taking a look at your profile bio. You can all the features that other people want you to see. Additionally, people on sugar dating sites want to see your photos. What makes Sugar Daddy Meet an incredible website is the possibility to create a private gallery for a premium member. This is what encourages people to exchange messages.
SugarDaddyMeet Dating Website: Chances of Success
You are guaranteed to meet your sugar baby or daddy. Due to a large number of members, everyone can find a suitable partner or date with a little patience. There are many daddies registered on many online dating sites, but not all of them are wealthy. The dating advice we can give you is to not rush things. There are many sugar babies available to you, so take your time, and then send a date gift to your favorites.
Tips on Becoming a Sugar Daddy or Sugar Baby
The best dating advice we can give is to be truthful to your wishes and to show that you are a genuine person. Fill in your profile properly, add information to your bio, and upload some neat photos. Be sure to post photos belonging to you, or you risk getting banned.
During internet dating, sugar daddies also reveal information on their earnings. This is important information for a sugar relationship. Sugar babies often use modern search to look up the money daddies earn. Yes, you can trick advanced search filters by lying about your money, but it is not recommended. This will make dating online to babies disappointing.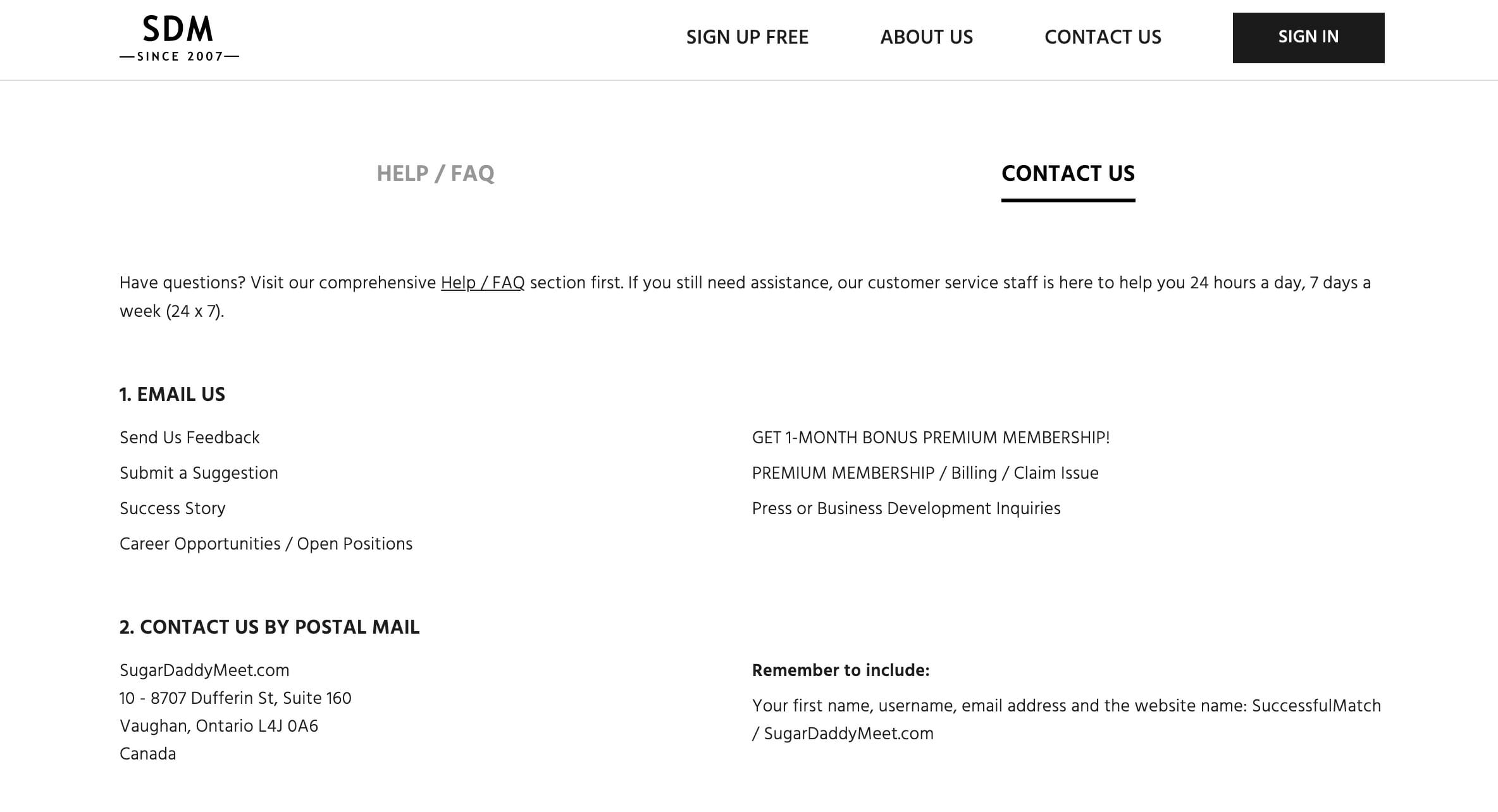 Customer Service of the Dating Platform
SugarDaddyMeet platform reviews mentions that customer service is one of the stronger sides of the site. Your video chat is lagging? The support will fix that. Do you struggle to come up with a first date gift? The support will try to share their thoughts. Those are the qualified dating experts that try to solve technical and dating issues. They are what makes Sugar Daddy Meet legit.
Safety on the Dating Platform
Sugar Daddy Meet is much safer than most other dating websites. The pictures you upload have to be checked by an admin first. If you use fake photos then they might delete account. The website is tough on fake profiles, which is a plus. There are always some fakes on dating sites, but on the whole, the website is reputable and very good.
Avoid Fake Profiles and Bots During Online Dating
SugarDaddyMeet is an excellent sugar dating site that puts a lot of emphasis on serious and genuine sugar babies and sugar daddies. The system is also good and cannot be tricked easily. You can try to join Sugar Daddy Meet via VPN, but you are likely to get denied. This prevents fakes. Plus you can try to start a video chat with them. They are likely to deny it because of them being fake.
Conclusion on the Sugar Dating Site
Our SugarDaddyMeet review comes to an end. We described all of the necessary information you need to begin your first sugar dating experience. It is up to us to lead you through websites, but you create first date ideas and share first date gifts. Overall, we think that SugarDaddyMeet is everything that modern sugar websites need.