Sugardaddy.com Review 2023
Last Updated on February 2, 2023 by Jeffery Maxwell
Sugar babies are constantly mistreated and feel like sugar daddies want them only for sexual pleasure. Such a bad reputation doesn't show the true picture, as there are quality services meant for quality sugar dating. SugarDaddy.com acts as a seasoned sugar dating site but does it stand the test of time? How well did the creators of the site manage the transition towards modern trends? Read on in our detailed review.
Have you dreamed of marrying a rich man who would make your life more financially stable? In this SugarDaddy review, we will discuss all the pros and cons of finding a rich man with the help of SugarDaddy. This platform aims to connect people with the same dating tastes.
SugarDaddy was first launched in 2002, and since then, it has become the leader of sugar dating in the English-speaking community. Countries like the United States, Canada, the United Kingdom, and Australia are among the top users.
But who is a sugar daddy? A sugar daddy is a mature, generous, and successful person who has full control over his life and financial situation. He or she can be a mentor, a great company, or a partner for life. Let's review this SugarDaddy site and discuss what this platform can offer you.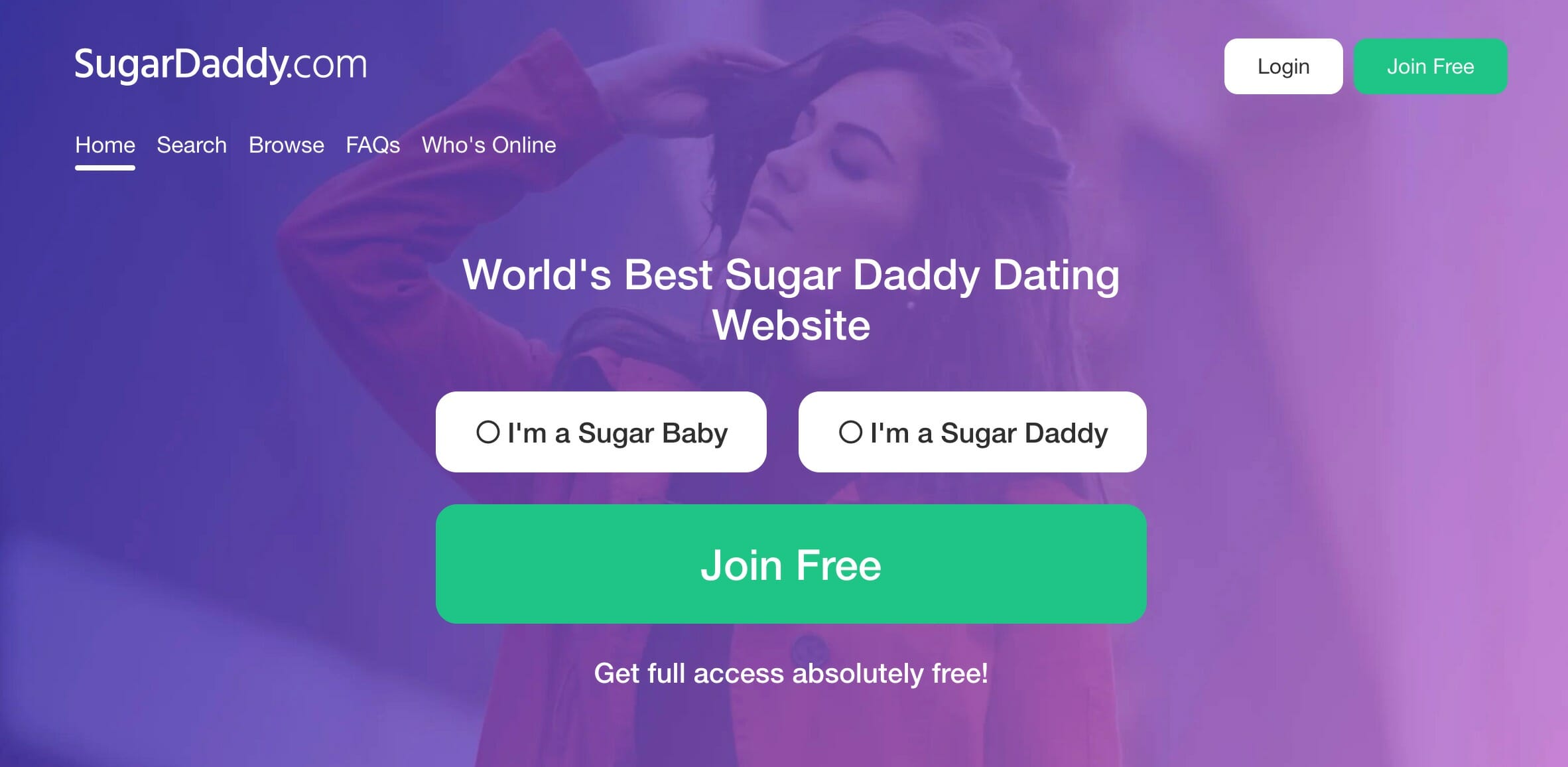 SugarDaddy Short Review
Once you visit SugarDaddy, you'll know at first glance that it's well presented, easy to navigate, and simple to use. The dark colors give it an elegant look. Several pictures of handsome men with luxurious cars and women dressed in fancy clothes make you feel like you're in the right place to find a rich man or a sugar baby.
SugarDaddy Pricing
You have no choice but to sign up for a paid subscription on the SugarDaddy website. It seems that if you find your dream sugar baby, you have to invest first. With a free version, you can't do much but watch. You can see each other's photos, read messages and add to your favorites. As such, you cannot get into proper sugar dating. Let's discuss in detail all the advantages and disadvantages of paid and free registration.
Free Features
As a standard member of the SugarDaddy platform, you can:
Add people to the list of favorites;
Read notifications received;
Browse and select profiles;
Download images;
View photos of any sugar baby.
SugarDaddy: Cost of Services
Though you can be a part of this sugar dating site without paying a dollar, it will slow you down towards getting to amazing sugar dating. Yes, you can use the advanced search and browse the profiles, but you cannot interact with a sugar baby you see. Thus, you have to go for a paid membership.
There are two membership plans on this sugar dating site: platinum and diamond. Platinum is $30, and diamond costs $35 plus, you have to remember about the administration fee, which is $6. Additionally, SugarDaddy suggests you pay $15, so the non-paying members could contact you and reply to emails. It's optional but gives you more room to interact with a sugar baby.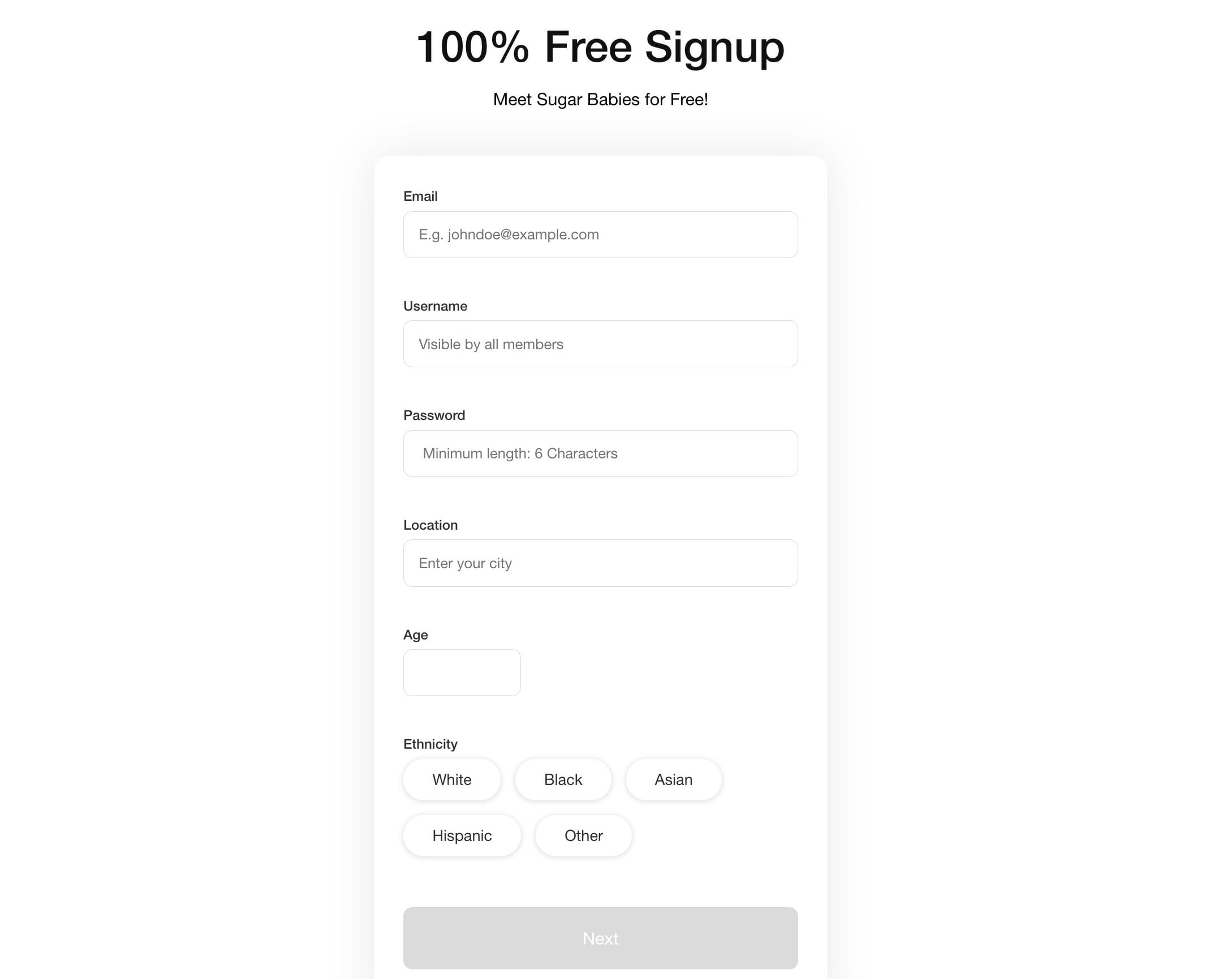 SugarDaddy Registration
Create a free SugarDaddy profile in five minutes or less. Please be patient, as you must fill out the Personal Information tab, which is mandatory. The more data you provide during registration, the better your profile is in general. Remember that no one usually checks out half-empty applications without a photo. Invest time in your page and it will pay off in your future sugar dating.
SugarDaddy Sign Up Process
The necessary details you need to provide for SugarDaddy are your email address to receive a confirmation letter. Once you click on it, your profile will be activated. The link will also redirect you to the registration page, where you will have to answer a few questions about your age, country of residence, occupation, income, interests, preferred sugar baby, etc. Registration using your Facebook profile is not allowed. This may be for a good reason as you do not want third parties to know about your sugar dating.
Sugar Baby Potential on SugarDaddy
Psychologists have proven that every woman and man has their requirements for choosing a partner. They differ from one person to another. What are these characteristics? On SugarDaddy you can meet all kinds of people, from students to older men. The majority of visitors come from the US, UK, and Australia, with 70% being female and 30% being male of Caucasian origin.
Age also plays a considerable role for a sugar baby as men over 25 are more actively marrying than younger men who want to enjoy their freedom. On the SugarDaddy platform, you can meet users of all ages, but a large number of them belong to the 35-55 age group for men and 20-30 for women. SugarDaddy does not discriminate against anyone based on sexual orientation; therefore, anyone can create a profile and take advantage of the matching services.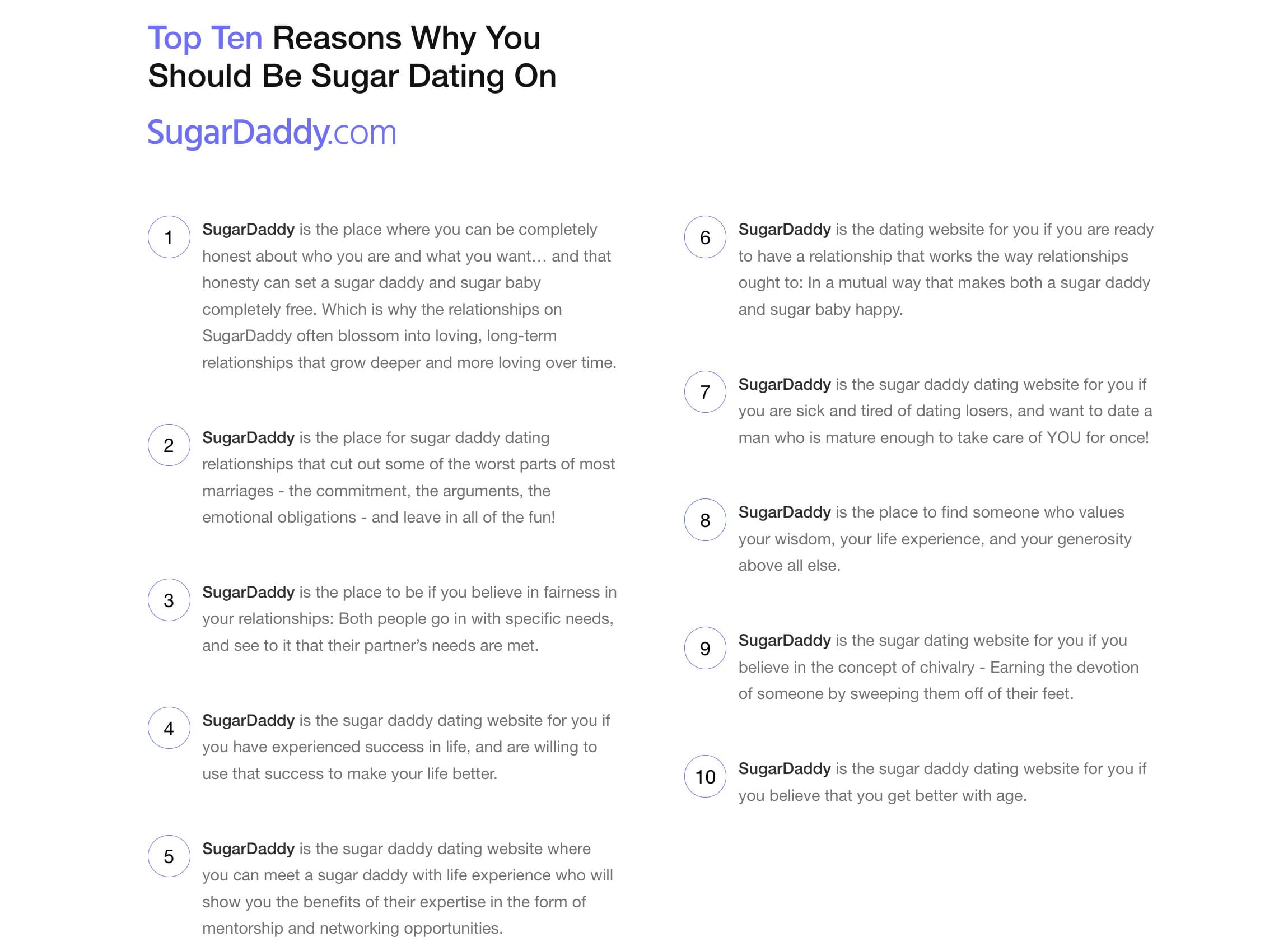 Sugar Daddy Main Features
Posting and receiving messages is free but rather inefficient. That's why SugarDaddy developers have come up with a few unique features to attract new users and enhance their online dating experience. One of them is the "Meet My Match" feature, where you can decide whether you like the profile suggested by the system or not. Click "YES" if you are interested or "NO" if you want to succeed. Another tool is the "quality level". This is about being active on the platform. The more time you invest in your page, the more scores you get.
Once you become a premium member of SugarDaddy, you can speed up the process and get higher scores faster. Your total score is usually divided into eight categories. Another benefit you can enjoy is "Forums". Unfortunately, it is only available to premium members. In the forums, you can read various topics, discuss them and comment on them by writing a short text message below.
Advantages and Disadvantages
The best way to define whether the sugar dating site is worth it is to see the good-to-bad ratio. There is always room for improvement, so a site with a good design might be lacking in its features and vice versa. Granted, if you don't have obvious flaws like malevolent adware or a constant subscription upgrade notification, then it's a great start.
SugarDaddy Pros and Cons
From what we've gathered, SugarDaddy is a bit outdated and so it evokes some issues. Going hand-in-hand with this world is a necessity if you want your dating business to make it out in this world. However, at a deeper glance, we found many likable perks that ease the process of sugar dating. Our experience with the pros of the sugar dating site was enjoyable but it never hurt to be critical and sincere about what you are reviewing.
Pros
Five-minute registration;
Age groups define different types of subscribers;
A significant number of singles are active daily;
Free profile search;
Matchmaking option available;
Once you complete your profile, all members can see it;
Upload up to 12 photos;
Update your profile at any time;
Full-screen presentation of profile photos.
Cons
The completion of the profile is mandatory;
Moderators check the photos;
Registration via your Facebook page is not allowed;
Posting and receiving messages is not free;
No chat room available.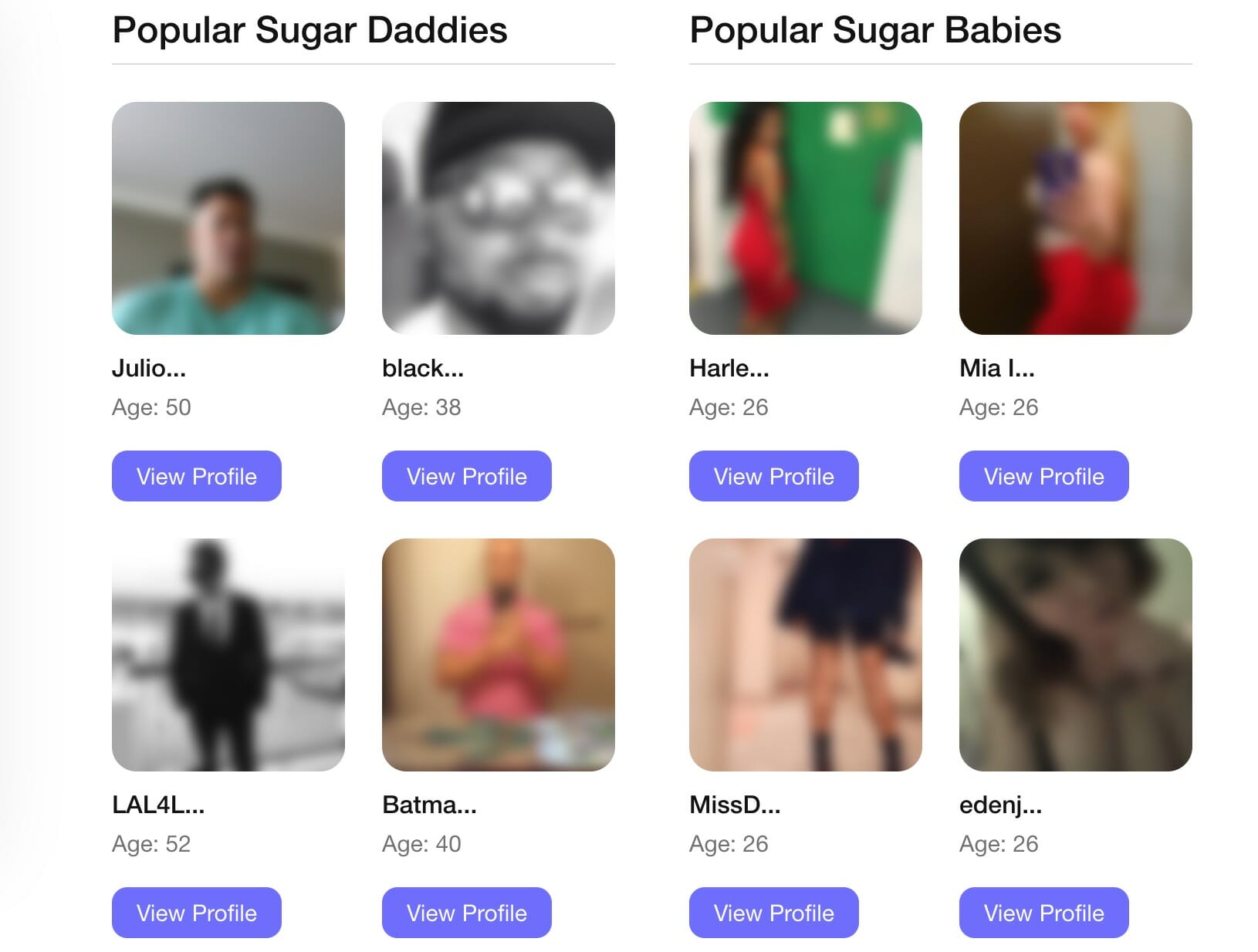 SugarDaddy Profile Personalization
The details provided by users in their accounts are necessary but practical as they indicate the essential information about you and give other users a general idea of the type of personality you are. When you fill out your SugarDaddy profile, it can be verified by all registered members of the site.
All SugarDaddy participants can also upload up to 12 photos of themselves. These will be available for viewing once the moderators have verified them. Free subscribers can view all images in full screen. Your page can be updated at any time later, so don't worry if you want to change or update some of your information.
SugarDaddy Profiles: Physical
There are different sugar daddies out there with personal needs. Some are looking for a hot-smoking body whilst others want a tall sugar baby with wide hips. Different attributes suit different daddies and this is why you should describe your parameters. Remember that you don't need to reveal everything at once as daddies enjoy some obscureness to their partners. A good reminder is that lying and not telling something are two different things.
SugarDaddy Profiles: Profile Bio
Think about what you would like to say about yourself to a sugar baby or daddy. It can be something concise, without any details. Or you can write a long text as some users are seduced by sincerity and openness. Also, people on the other side of the monitor will be easier to determine how your interests, views, and characters – the chance to meet the "right" person will be higher;
SugarDaddy Profiles: Lifestyle
This right here is the path to your mind. SugarDaddy encompasses people who value rich personalities, as nobody wants to date a pretty yet empty shell of a sugar baby. Don't have work? Then replace it with your desires, hobbies, and aspirations. Show that spark that makes daddies want to start a conversation with you. SugarDaddy strives for variety and there is nothing to be ashamed of here. Start with some honesty and daddies are guaranteed to take a look.
Looking for Sugar Baby or Daddy on SugarDaddy
The search option is free for standard users. If you want a system to match you with other people, you can use a matchmaking feature. Once you've found someone to chat with, you can send a message, but remember that this option is not free, so basically you'll have to pay a day for SugarDaddy to make this online dating experience work. While you could find other alternative ways to connect on other services like "wink" or "likes", on the SugarDaddy platform, sending messages is your only option to mingle.
SugarDaddy: Playing Along With the System
The system can match you based on your criteria, such as age, country, or interests. SugarDaddy uses your contact information and search requirements to offer you the best match. Our advice would be to fill out your profile completely so that later you can chat with other singles who match your taste.
But be careful, because men often exaggerate the size of their income to seduce girls, and the ladies themselves talk too actively about their non-existent merits. To find the perfect husband, it is necessary, to be honest with a man from the beginning. Each person has minor flaws, which should be discussed at the first meeting so as not to waste time with dead-end relationships.

SugarDaddy Mobile App
To our surprise, SugarDaddy does not have a mobile app. The only option is to use the mobile version on your phone, which has a mobile-friendly layout. It is one of the flaws that SugarDaddy has to address as the mobile potential of dating sites is immense.
Having a portable dating app is like having a good messenger that your members can't get enough of. Mobility matters as well as we are all busy people that can't spend our days in front of a PC or be forced to type in the name of the site on a mobile browser. The creators of the sugar dating site know what is good for them, so our predictions are that the mobile app is soon to come.
SugarDaddy Video Review
The best way to know more about a site is to check out a good video review. We enjoyed the one made by the OnlineForLove youtube channel, as it helped us gain even more intel on SugarDaddy. The sugar dating site is mainly for the US, Australia, Canada, and the UK. It is the most popular in bigger cities like New York, London, Toronto, Chicago, etc.
Interestingly, the site implies that sugar daddies have to earn at least $100,000 annually, but it is a flawed system, as men can lie about it. There is no requirement for them to upload any data confirming the earnings. It is good because of the ease of signing up but bad for credibility.
The sugar dating site is easy to use, with the registration process being rather fast. The good thing about the verification system is that it is done manually by customer support members. Yes, it can take quite some time, but it is the best way to reduce the scams during sugar dating. What is rather disappointing is that the features are slightly outdated. You can highlight your profile and get more attention, but there are no things like video calls or a rewarding system.
Privacy on SugarDaddy
The team of moderators on SugarDaddy works around the clock and monitors user activity. In addition to the official policies implemented by the website, members can report and block each other. This means that the moderators have a lot of work to do. They review complaints, approve or deny new visitors, and monitor their sugar dating activity.
Illegal Activity on SugarDaddy
As with any other website, a person can only have one account. It is forbidden to sell it or use it for marketing/advertising purposes. If spam is noticed, the user will be immediately blocked or removed from the website.
The sugar dating site does not promote prostitution. By signing the terms of use, a person acknowledges having read the policies. The platform is not geared towards profit or selling the services of others. SugarDaddy charges a membership fee to maintain the work of the moderators and the website. No additional fees are required. So, in case another user or a third party asks you for money, it is probably a scam. Before making any payment, contact the support team to check its validity.
If you notice someone showing signs of offensive behavior, report it immediately, and the moderators will take further action.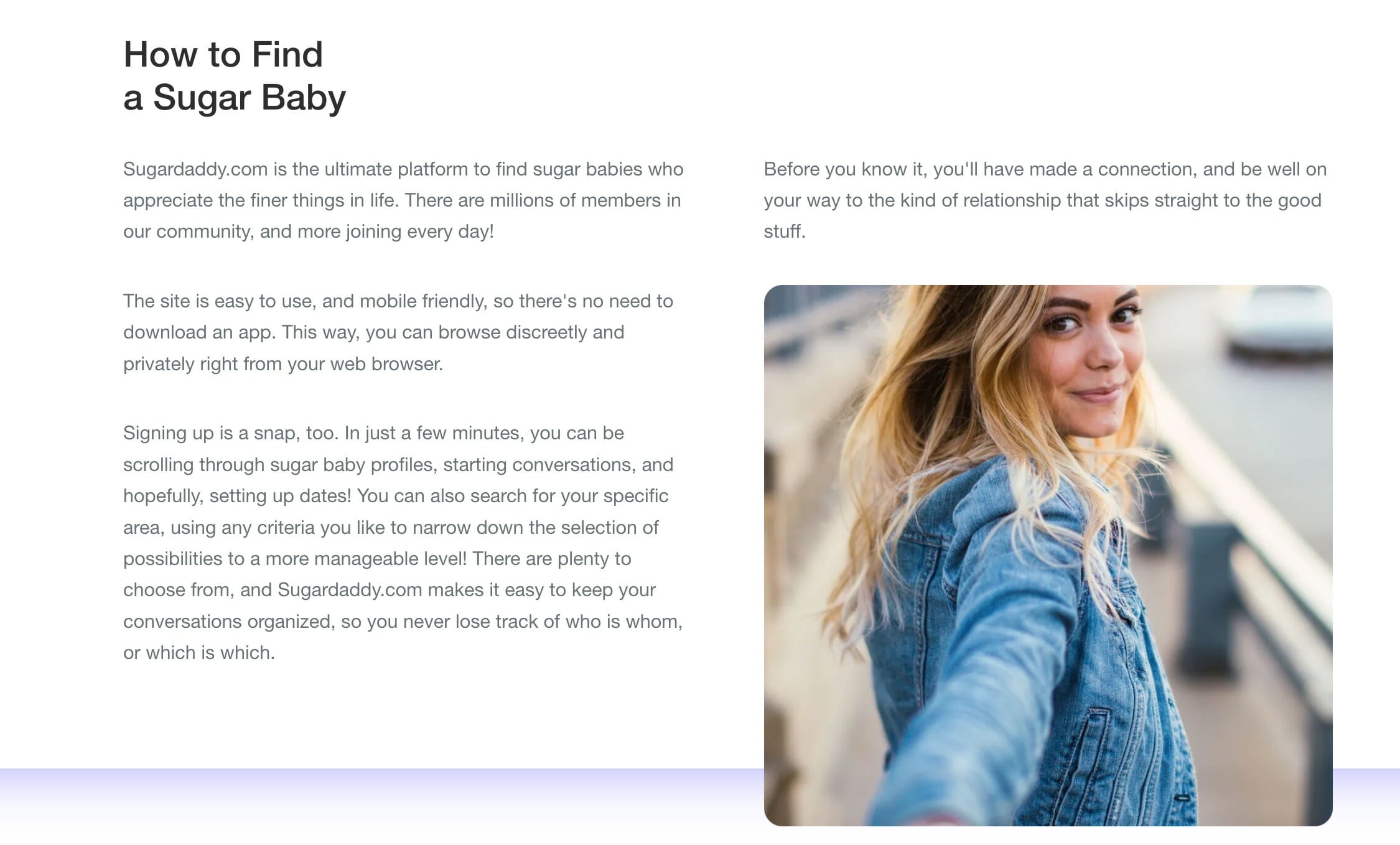 Are There Analogues to SugarDaddy?
SugarDaddy is not the only dating site of its kind. There are dozens of them and maybe even more. By searching a little on the internet, you will easily find other sites dedicated to sugar dating or in any case that are similar to this one, especially in terms of its editorial line, and the target audience. Note however that this is one of the best sites for the English audience!
And in a way, we want to say that it is not worse, quite the contrary. As for everything, there is competition! And very often, the difference is felt in the popularity of the sugar dating site, its community but also and especially in the price!
Conclusion
"In my humble opinion, there is nothing wrong with trading some benefits. If you want to be pampered, but no one appreciates you enough, it is worth visiting dedicated services. By creating a profile with SugarDaddy, you have access to the pool of rich, lonely people who seek your attention. This works both ways. If you have a trip for two but are missing a partner, look no further. A niche sugar dating site like this was launched for a reason. Considering the number of singles in the world, fighting loneliness is an important matter. People don't try sugar dating because of hesitation. Some are too shy to approach each other in person, so they stay single and sad. If you are a lonely sugar baby that is sick of being alone, try your luck with SugarDaddy."