Last Updated on February 2, 2023 by Jeffery Maxwell
SugarBook is a dating app app for a growing sub-niche market of sugar daddy/sugar baby couples and users looking to date. While some websites out there offer an app or a feature to allow men or younger women who are not sugar daddies to find a sugar daddy, that's not what SugarBook is all about. While some websites have a large number of sugar daddy/sugar-baby couples, what sets SugarBook.com apart is that it allows sugar daddies and most sugar babies to communicate directly with one another. SugarBook allows users to find a sugar daddy in real life, not just on a sugar dating site.
The app has a great rating of 4.7 stars out of 5 and has good support from existing members. The user's reviews are largely positive with good support and lots of existing users who are satisfied with the service. Premium membership is available to anyone who joins the SugarBook app. The premium membership gives access to extra features such as profile reviews and feedback from other sugar babies.
Sugar Book provides the ability to send messages to sugar babies and sugar daddies. The instant messaging feature also allows you to message as a sugar daddy or sugar baby. The app is available for Android and iOS phones and tablets. There is no requirement of using a specific platform and the app is available on both platforms. The user interface of the app is very user-friendly. In this review, you will find out about the pros and cons of paid membership in Sugar Book, scam protection measures, safety, and other important information about the app.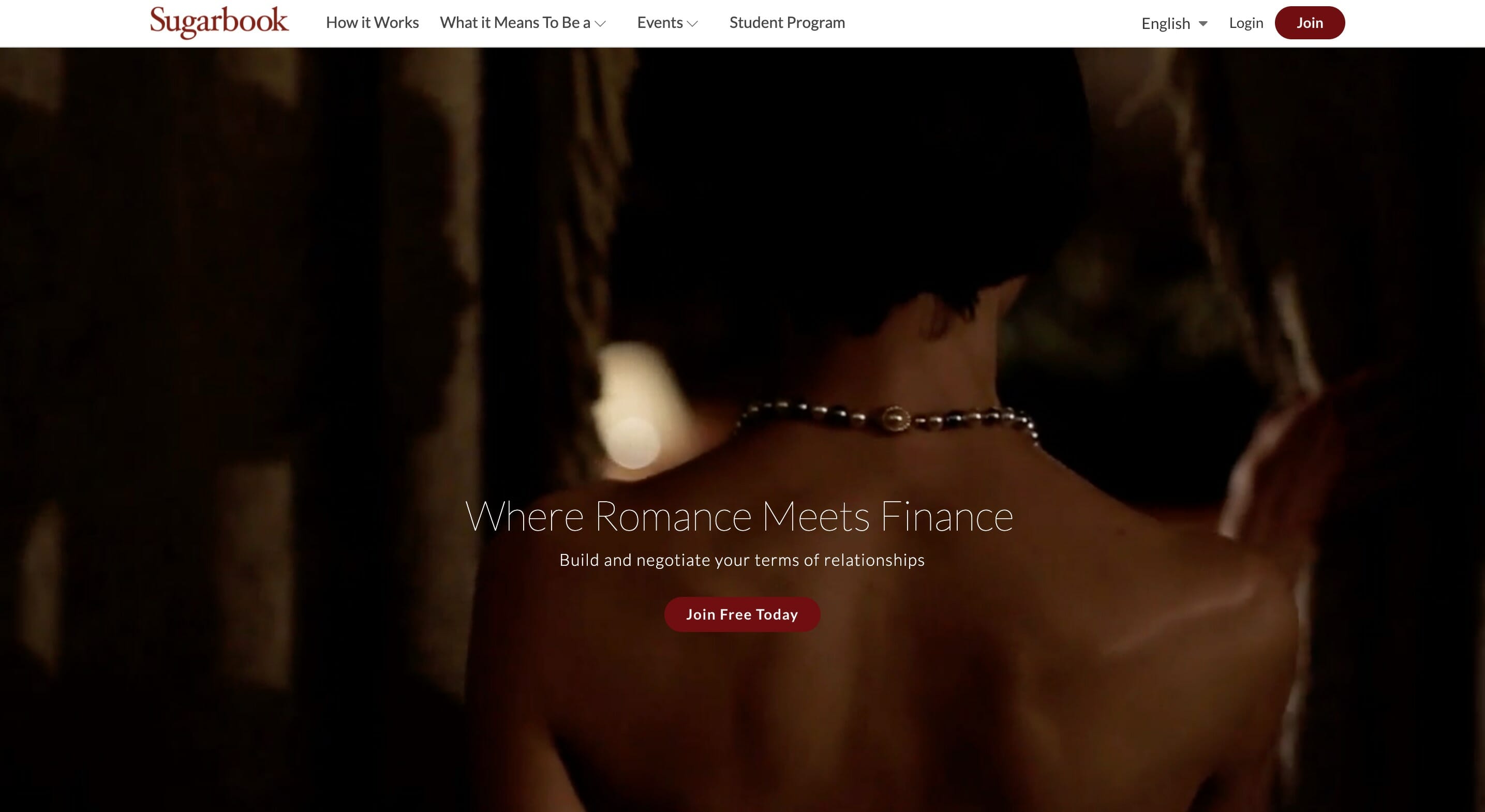 Registration
The registration process is simple and straightforward. You may either make an account from scratch, which is really simple or use another registration method to log in with Facebook. If you choose to manually create your profile, you will be asked what gender you are and whether you are looking for a sugar baby or a sugar daddy. This immediately classifies you as either a sugar daddy or a sugar baby. If you have any questions you can always find all the details about the dating site's student program.
Following that, you will be prompted to provide your display name, email address, and referral code, if applicable. And presto! You already have a Sugarbook account. You must immediately confirm your email address for verification reasons. You may now customize your profile and begin surfing when you have been authenticated. Please keep in mind that you will be unable to send messages or share public and private photos until your profile has been approved. On a busy day, the approval process can take up to 48 hours.
Search and Filters
The search system helps you to browse through the profiles of sugar baby paying members of our site in an easy and convenient way. With the search feature, you can find the best baby and daddy from various categories such as age, race, gender, and location.
What are the SugarBook filters? With the help of various filters, you can filter the sugar daddy and sugar baby profiles you find to suit your needs. You can search the sugar daddy and sugar baby profiles only if you meet some basic requirements such as age, gender, location, etc. The filters help you quickly get the best sugar daddy from your favorite category.
How to find sugar babies? SugarBook is a sugar daddy and baby online dating site that has been designed keeping all the needs of the users in mind. You can easily find a sugar daddy in no time with the help of the filters and the search bar on the website. Steps to Find a Sugardaddy:
Select a location and the date range for your search in the settings;
Enter a keyword for your search;
The search system helps you to browse through the sugar daddy profiles in real-time.

Communication
How to send an instant message on SugarBook? Send a message on SugarBook the same as any other sugar dating site you have used before. To send a message on SugarBook, you have to click the blue "Message" button above to be directed to the messaging tool. You will see a message from your potential date waiting for you. Once your message goes through, you'll find it sent automatically and the date will appear for you to send a message back.
What to include in a SugarBook message? Before sending your first message, keep in mind that there is etiquette when it comes to making the first move. As you practice writing your first SugarBook message, keep in mind the elements that might be most important in your message.
Do you want to write a long one? In that case, you may want to write a very short SugarBook message and give more of a compliment, rather than giving all your stats, and hoping that the recipient is interested in doing the same. Remember, that it is not a site to "game". The first move is a very big deal, and it's also usually the last move as well. For instance, on this sugar dating site, if a man sends a message first, he may be left waiting for weeks for a response, and that's just for one reply.
The Mobile App
The app offers a more mobile version of the site and is designed to cater to sugar babies who prefer mobile over desktop. It provides the same dating-related functions found on the desktop version of Sugar Book such as video chats, message boards, and a full profile editor with customization tools.
The app boasts over 40 million downloads, and the number is expected to grow with the help of its marketing efforts, as well as its new sugar dating website, SugarBook.com. This service allows those interested in other mobile devices to find the type of smartphone they want to make the most of the app. It also allows them to find all the information they need to get started. Users can start connecting sugar babies from the mobile app, and can even save a profile and search for their perfect match directly from their mobile device.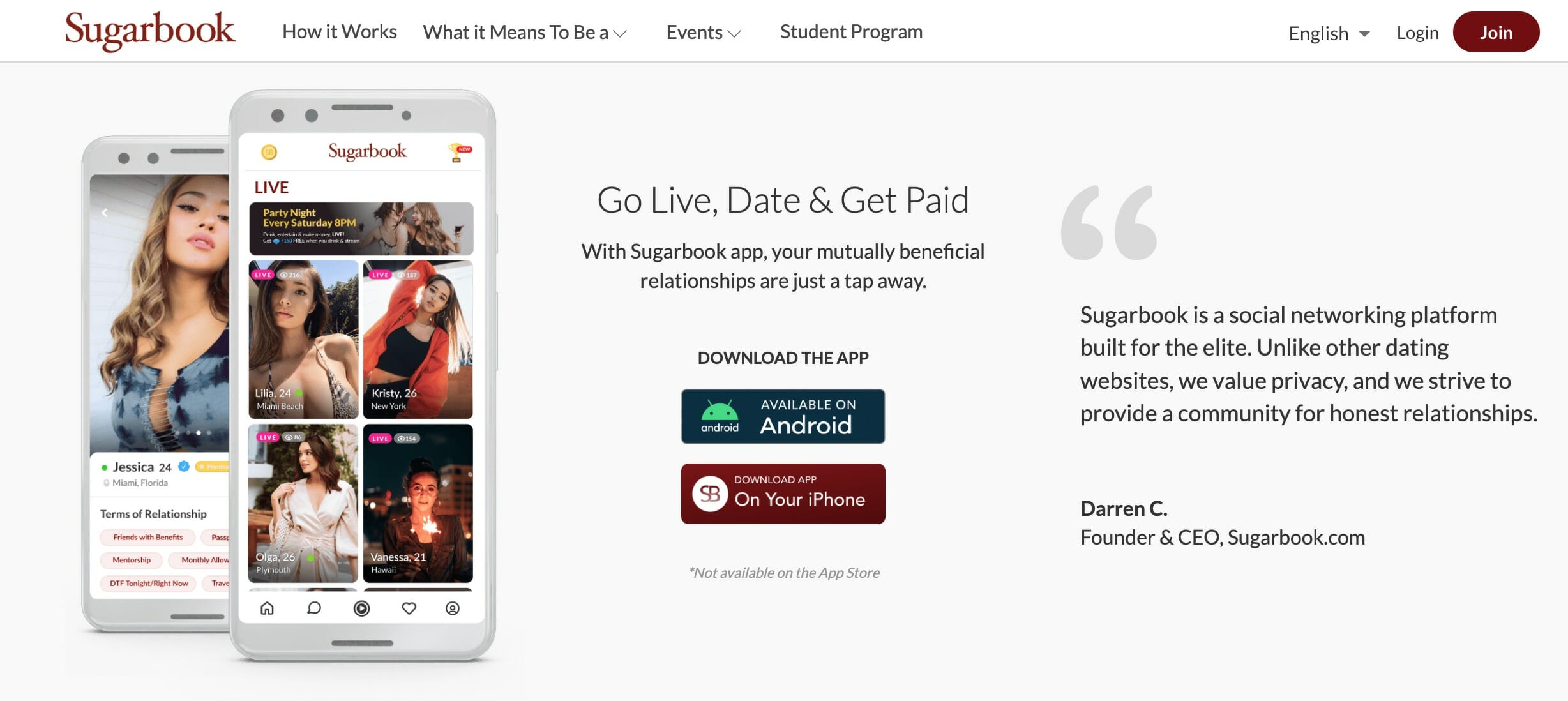 While other online sugar dating sites offer similar functions, the company has done a good job offering up a mobile version of its site. This is a significant addition, as there are many people who rely solely on their smartphones. While there is an app for everything, the app for SugarBook is the first time that the company has included such a service for their dating site.
Since the app is designed to give a complete dating experience, users can connect with other interested users through video chats, a live feed that shows users' locations, and even voice chat options. Users can also message other users, send gifts, and even set up in-person meetings with others. This is something that makes the app an attractive option for those who don't want to deal with all the extra effort that a long-distance relationship can require.
Not only does the app provide the most convenient way to meet and date other people, but it also provides a nice, easy way to connect with the SugarBook dating world. The site is known for its helpful community and has a large social aspect to it. Each sugar daddy on the site connects sugar babies consist in a format that is convenient for him.
With all these features, it's easy to see why the app has such a great amount of downloads. If you're looking to find someone who is just as eager to connect as you are, you can score potential sugar daddies on SugarBook. If you're looking for the perfect connection, the app has you covered.
Free Features on the Website
The site offers its members a free membership with many free features. Here are the most popular and frequently used free premium accounts features:
Registration;
Profile creation;
Basic search and usage of filters;
Free but limited messaging to other members;
Add interesting members to your favorites.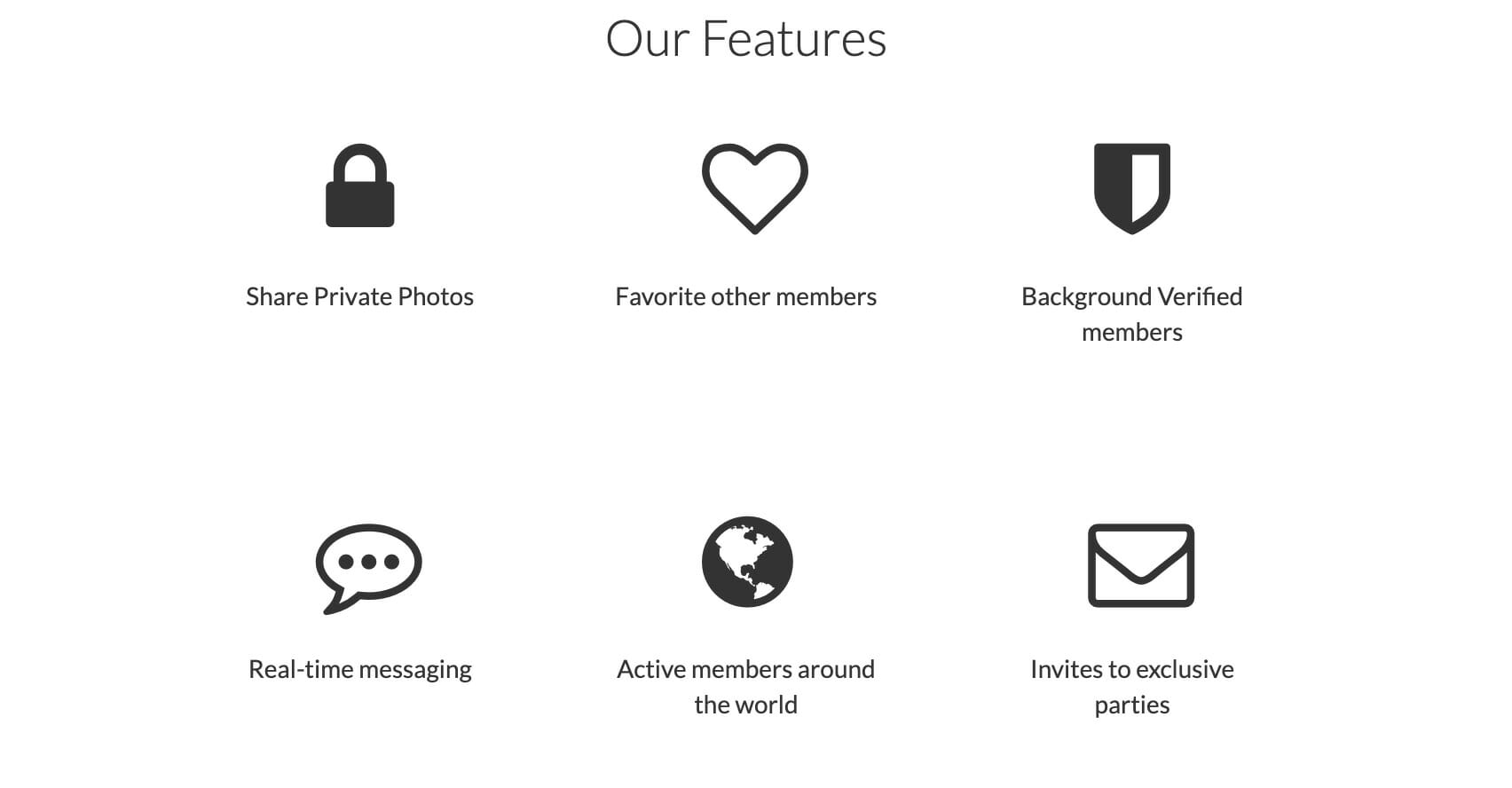 Paid Membership
SugarBook offers a very large number of premium features. You need to pay to gain access and enjoy premium features and show proof of enrollment. All premium members get access to our exclusive social networks, elite events, elite chats, and more. Check out all pricing plans below.
| Membership/Credits | Duration/Quantity | Price per Month/One Credit | Total |
| --- | --- | --- | --- |
| Premium | 1 Month | $71.90 | $71.90 |
| Premium | 6 Months | $55.95 | $167.85 |
| Premium | 12 Months | $39.95 | $239.70 |
Scam Protection Measures and Safety
SugarBook uses Scam Protection Measures. With these measures, every premium member is protected against any form of internet fraud including identity theft, computer hacking, and credit card fraud. SugarBook also protects you against fake messages, which often happen when you go on to use other dating sites. In addition, this site also protects you from any other forms of fraud and identity theft that can happen with other dating websites. The scam protection measures are activated once you go into your premium account settings for these dating sites.
SugarBook uses a secure site connection which is protected using the highest level of SSL. It is important to note that the SSL protection is provided by SugarBook, and not by the website. The SSL/TLS site security method encrypts all data sent between the client and the server which is an additional layer of security. Click here to go to your account settings page for SugarBook and click on the link above to make sure you have the scam protection measures activated.
The 128-bit Secure Sockets Layer/Transport Layer Security (SSL/TLS) encryption protects your privacy on SugarBook, which means that every time you go on the site you'll be able to trust that the app will keep your personal information safe from others who might want to see your information. The site also meets the requirements of a Web-Site-Level Security Certificate and is certified by Thawte, a recognized leader in web security.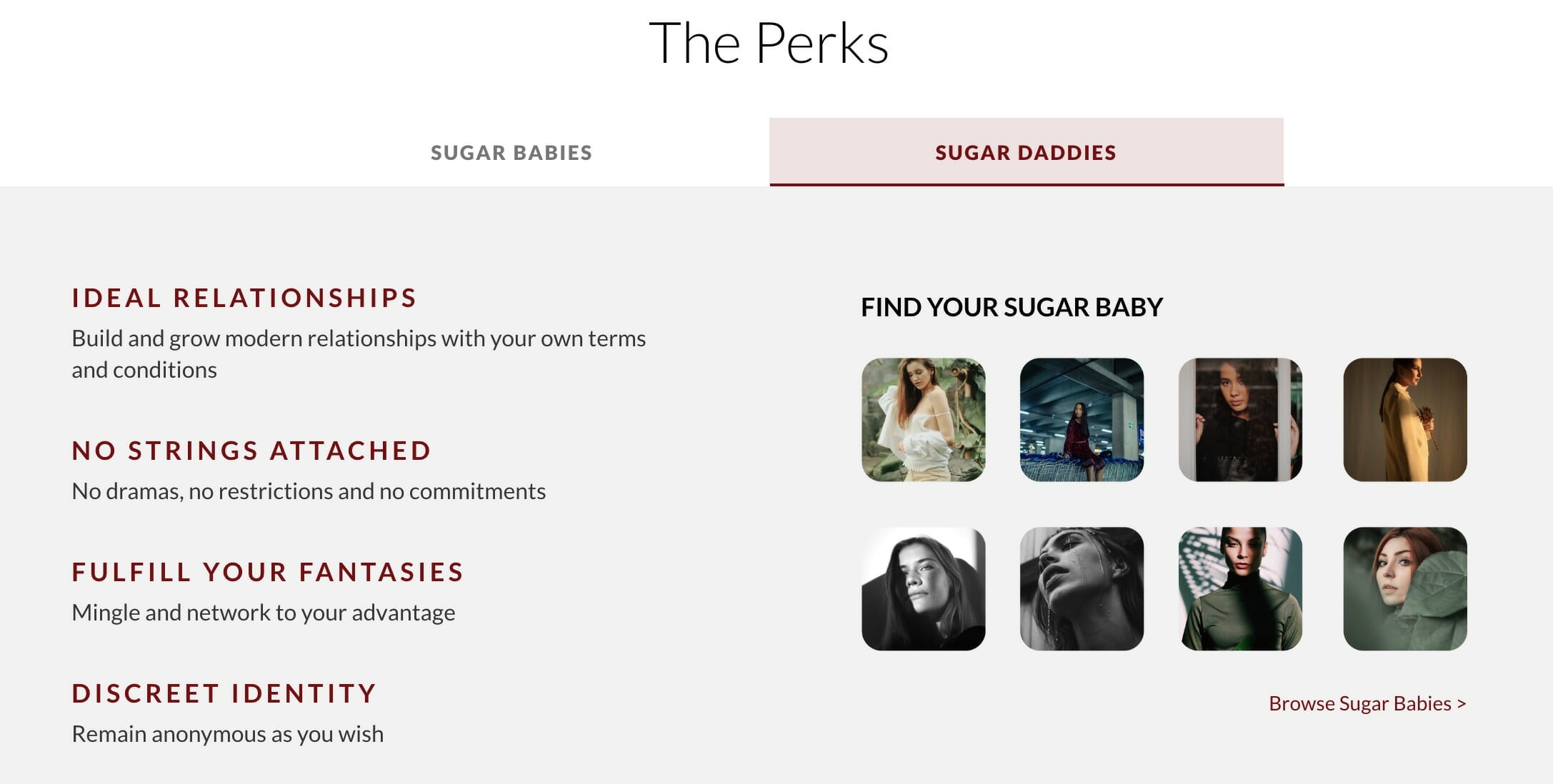 Pros and Cons of Paid Subscription
Pros:
Hiding your online status, join date, and last login same country;
Advanced Features for Searching;
Unlocking Read Receipts to see if the recipient has read your message;
Unlimited messaging to all profiles;
Private mode;
Private photo function;
Viewing who saved you as a favorite;
Getting to see who viewed your profile.
Cons:
Customer Support
If you are having any technical problem with SugarBook and you are unable to solve it, you can contact SugarBook customer support. You can do this by phone or live chat. To contact customer support using the phone, you have to use the phone number displayed on the official website. Moreover, you can contact customer support using Live Chat. Live Chat is a very helpful way to contact customer support on SugarBook. You can talk to the customer support team for any questions and/or concerns you have about SugarBook and its app. Just type in the address of the Live Chat link, and then hit the "Start Chat" button.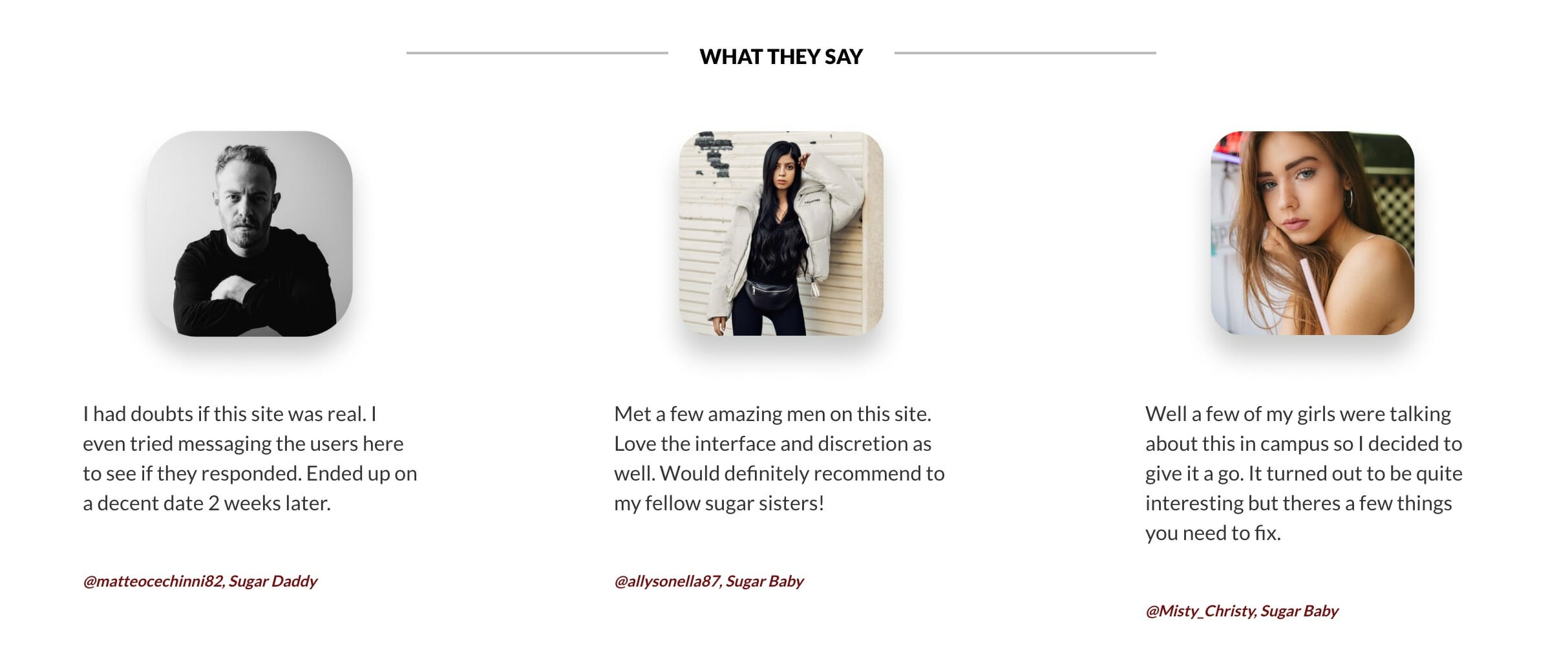 Conclusion
To sum up this review, it is worth mentioning that SugarBook is your one-stop online niche site to explore sugar relationships. Join this dating platform for sugar babies and daddies from all over the world. It's a great place for you to post your profile, search through local sugar daddy, sugar baby, or sugar momma members, and find matches based on common interests and personality. Join SugarBook free today and browse around the site to explore all that it has to offer.
FAQ
Is SugarBook a Scam?
Is SugarBook a scam? No, it does not. There are several dating site reviews claim that SugarBook is in business for the right reasons, and there are a large number of users who wish to meet individuals online who are searching for genuine relationships.
Is SugarBook Legit?
Utterly. SugarBook legit platform is perfect for meeting and interacting with individuals you might not have met otherwise. There are millions of people on the site who are all open-minded and looking for a sugar relationship.
Who Can Use the App?
Anyone above the age of 18 is permitted to use the app as long as they agree to the Terms and Conditions of the site. However, the SugarBook app has the right, at its sole discretion, to remove any users from the app for the benefit of the members.
Are Profile Pictures Real?
Without a doubt. Its members are all real people that came to the site on their own time. Before they appear on the site, all profile images are reviewed, and many are validated to guarantee they are who they claim to be. In addition, every user writes a brief description of oneself. As a consequence, there are no phony profiles on this website.
How Do I Change the Password on My Account?
On mobile, you may change your completely free account password by clicking the three lines in the top bar for the side menu, or on desktop, click your profile image in the website's header and select Settings.